Scope: The DCY-104 Central PDC Conversion Project consisted of a 26,000-square foot renovation that included construction of two (2) new housing units, a new gymnasium, a vocational education building, renovation/construction of medical offices, outdoor recreation areas, and installation of a perimeter security fence.
Pauly Jail Building Company scope of work included furnishing and installing: fifty-nine (59) prefabricated modular steel cells, locking devices, security hollow metal doors, security frames, security glass/ glazing, detention furniture, security electronics, exterior gates, and detention accessories.
Start Date: 09/22/2017
Completion Date: 10/17/2018
Pauly Jail Building Company Contract Amount: $3,367,308.00
Construction Manager: Carroll Daniel Construction Co. | 921 Athens St. #A | Gainesville, GA 30501 | (770) 536-3241 Phone | Contact: Clay Yeager
Security Architect: Wakefield Beasley & Assoc. | 5200 Avalon Boulevard | Norcross, GA 30092 | (770) 209-9393 Phone
Partners that were a part of this project:
- Accurate Controls, Inc. for Security Electronics
- Global Security Glazing for Security Glass
- Kane Innovations, Inc. (Kane Detention) for Exterior Gates
- Norix for Detention Equipment
- RR Brink Locking Systems, Inc. for Detention Hardware
- SteelCell of North America for Prefabricated Modular Steel Cells
- Titan Steel Door for Security Hollow Metal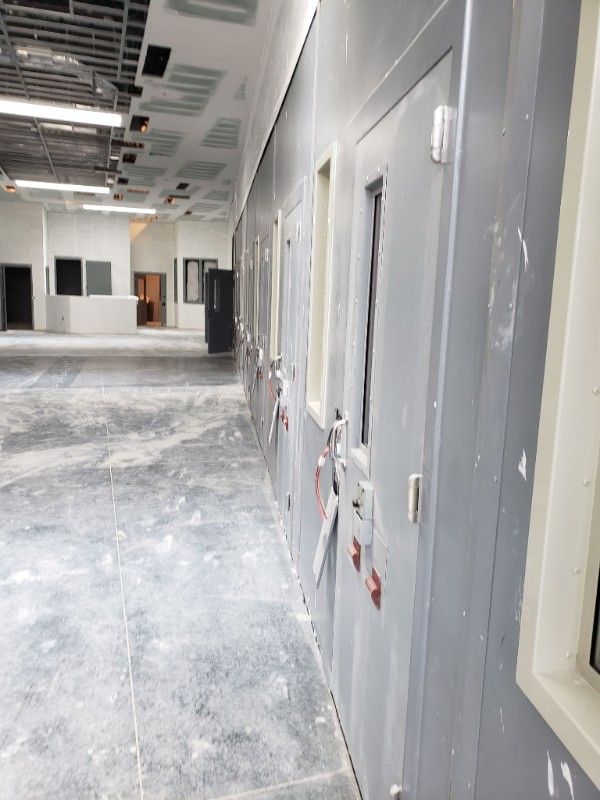 Pauly Jail Building Company self-performs the installation of all detention equipment for every project and is signatory with the International Union Ironworkers.