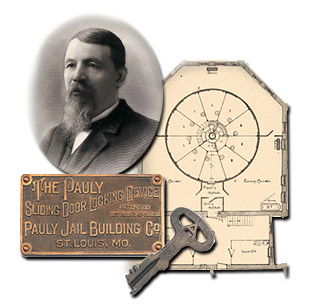 Pauly Jail Building Company is part of our country's rich history of westward expansion, American ingenuity, and successful entrepreneurship. It was 1856, wilderness and wastelands were quickly becoming territories and states, and our judicial system was faced with the problem of how to house prisoners in those remote areas that were without proper detention facilities. P.J. Pauly, Sr. of St. Louis, Missouri, saw this as a tremendous opportunity.
Mr. Pauly and his family were steamboat blacksmiths on the Mississippi River, and they had the skills to design and build steel cages that could be mounted on flatbed wagons to create portable jail cells, the perfect solution to the detention problem of that day. The quality of workmanship of these Pauly jails set the industry standard and launched the Pauly family into the forefront of this new area of business. Over time, the name "Pauly" came to be associated with traditional jail and prison construction throughout the United States, and drew special recognition with the unique Patent Rotary Jail which remains an historical testament to American inventiveness.
The tradition of excellence continues today as P.J. Pauly, Sr.'s great-great-grandsons guide the Pauly Jail Building Company toward meeting today's needs in the detention equipment industry. Robert James Pohrer and Joseph Pauly Pohrer III revitalized the family business, operating briefly as Pauly Pohrer Group until they reclaimed and secured the original company name in 1991. Today, the company retains the strong pioneering spirit, heritage of innovation, and unwavering commitment to excellent service that has always defined the Pauly Jail Building Company.
Highlights:
Double-ribbed bar and the development of the "tool resisting steel" with the Crucible Steel Company

The 4-S approach to the correctional industry:


Security
Segregation
Sanitation
Safety

Special plumbing fixtures that could never be clogged - Noverflow

The forerunner of the heavy hollow metal door and frame - Securidor

A line of detention security windows - Invisiguard and Ventralite - which replaced the old exposed guards