Scope: This 33,000-square foot state-of-the-art facility was built to provide a new full service jail with one hundred and fourteen (114) beds and a new sheriff's office. This jail includes minimum, medium, and maximum security housing. The facility also includes intake, visitation, classrooms, outdoor recreation areas, full-service kitchen, sally port, and other support spaces. Thirty (30) of the beds are reserved for females, while the rest are for the male population. The new jail offers inmates programs and activities such as but not limited to drug and alcohol counseling, medical services, recreational activities, commissary, and work within the confines of the facility.
Pauly Jail Building Company scope of work included furnishing and installing: security electronics, security hardware, security locking devices, security hollow metal, security glass/ glazing, detention furniture, security mesh, chase doors, and security frames.
Start Date: 08/29/2016
Completion Date: 01/25/2018
Overall Construction Cost: $15,100,000.00
Pauly Jail Building Company Contract Amount: $1,394,168.00
Construction Manager: Granger Construction Company | 6267 Aurellius Road | Lansing, MI 48911 | (517) 393-1670 Phone | Contact: Todd Butler
Security Architect: Wachtel & McAnally Architects Planners Inc. | 35 South Park Place, Suite 350 | Newark, OH | (740) 345-3500 Phone | Contact: Garry McAnally
Sheriff: Sheriff Charles R. Black Jr. | 47129 Moore Ridge Road | Woodsfield, OH 43793 | (740) 472-1612 Phone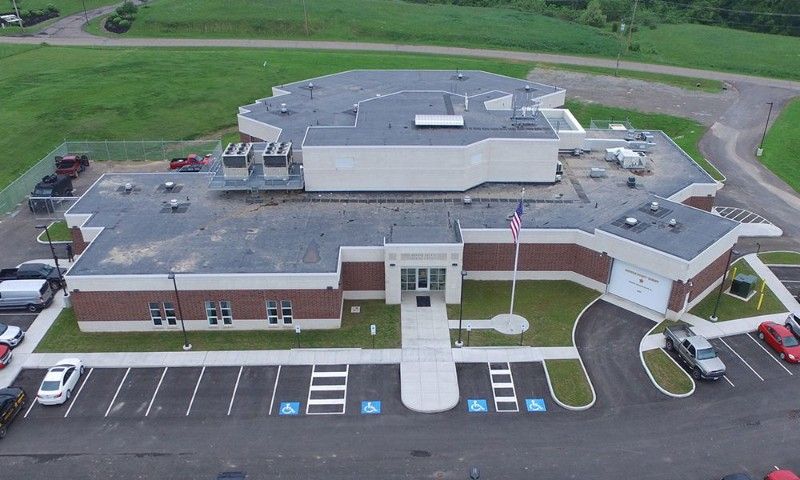 Pauly Jail Building Company self-performs the installation of all detention equipment for every project and is signatory with the International Union of Ironworkers.
Partners that were a part of this project:

- Accurate Controls, Inc. for Security Electronics

- Global Security Glazing for Security Glass

- Hope's Windows, Inc. for Security Windows
- Kane Innovations, Inc. (Kane Detention) for Security Mesh

- Modern Detention Equipment for Detention Furniture
- Norix Group Inc. for Detention Toilet Accessories
- RR Brink Locking Systems, Inc. for Detention Hardware & Locks